GM Magnetic Suspension Delete Kit
aka Electronic Shock Delete Kit - Magnetic Shock Delete Kit - Shock Simulator Kit - Magnetic Bypass Kit
Allows removal of OEM Magnetic Shocks AND Ride Height Sensors
Plug and Play - No DTCs - No speed limiters
Magnetic Selective Ride Control Bypass

SUPPORTED Trucks & SUVs:
2015-2018 Magneride (RPO Z95)
GMC Sierra Denali
GMC Yukon Denali / GMC YukonXL Denali
Tahoe LTZ / Suburban LTZ
Cadillac Escalade

SUPPORTED Cars:
2014+ C7 Corvette
2012+ Camaro SS/Z28/ZL1
2015+ Chevy SS
2013+ Cadillac ATS
2014+ Cadillac CTS
Contact Us with any questions about your vehicle year/model
OR


Link to PDF Instructions and Install Video

Full Kit: $435 Shipped
Includes: 4 Shock Simulators and 4 Ride Height Sensor simulators - Bypass front and rear magneride
NOTICE SUVs: If replacing rear air shocks with non-air shocks be sure to following the "Bypass Auto Level Air" PDF Instructions to avoid auto level related DTCs
Front "Half" Kit: $260 Shipped
Includes: 2 Shock Simulators and 2 Ride Height Sensor simulators - Bypass front OR rear ONLY

Simulator Kit Description
Provides a plug-n-play solution for replacing stock magnetic (FE4 - F55 - Z95) suspension on the latest generation of GM vehicles.
The shock and ride height simulators work together at each corner of the vehicle so the SCM (Suspension Control Module) believes the ride height is stable/stock and the shocks are connected.
Our shock simulators utilize OEM connectors and a rugged thermoconductive epoxy approved for automotive applications.
They have been tested in the most extreme vehicle environments.

Replace OEM with any non-magnetic shock/strut assembly or coil over.
Most of our Truck/SUV customers prefer the ease of installation of a fully assembled quick strut.
Example: Monroe 139104, Rancho RS Series, Fox 2.0/2.5, etc.
We can help you with suggesting replacement struts and shocks. Technical Notes:
OEM approved TE Connectivity MCON hardware
Encapsulated in thermo-conductive epoxy
Solvent and acid Resistant, for harsh environment
Every unit end-of-line tested
Made in the USA
1 Year Warranty
Shock Simulator Dimension: 2.5" x 1.0" x 0.8"
Ride Height Simulator Dimension: 1.8" x 1.0" x 0.7"
0.5 oz (each)
Full Kit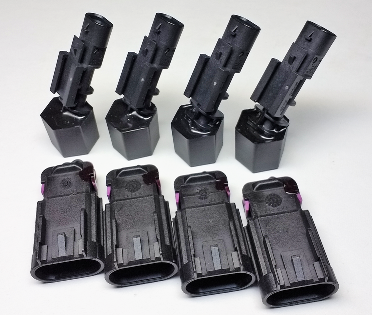 RPO Code - Model (Years):
Z95 - GMC Sierra Yukon YukonXL Denali Tahoe Suburban Escalade(2015-2018) Magneride
F55 - Cadillac ATS (2013-2018) Magnetic Ride Control
F55 - Cadillac CTS (2014-2018) Magnetic Ride Control
FE4 - Corvette Z51/Z06 (2014-2018) Magnetic Selective Ride Control
F55 - Camaro (SS, ZL1, Z/28) (2012-2018)* Magnetic Ride Control
Suspension Control Module (SCM) Description
The suspension control module (SCM) commands variable levels of current to each shock absorber actuator in response to rough road, braking or abrupt steering maneuver driving conditions. The current variation is performed by pulse width modulation (PWM) of the system voltage. The SCM continuously measures the actual current of each actuator. When a deviation between commanded and actual current is detected, a DTC is set.
The SCM provides current to the shocks via 2 term connector the terminals for each shock are labeled:
Strut Motor Decrease Damping Control
Strut Motor Increase Damping Control
The electronic suspension control system, individually controls the damping force of each of the four shock absorbers in order to keep the vehicle's body as calm as possible. Changes of the damping forces can be accomplished within milliseconds. Suspension characteristics can be changed at any time by
activating the driver control mode. The electronic suspension control system consists of the following major components:
Suspension control module (connected to 3 CAN busses)
Four corner position sensors
Four magnetorheological shock absorber actuators or struts
Driver mode control switch
The SCM controls the damping forces according to the following factors:
Vehicle speed
Steering wheel position
Engine torque
Brake pressure
The SCM evaluates these inputs in order to separately control the shock absorbers, providing an enhanced ride and comfort level over the widest possible range of operating conditions.
Contact Us or email max@xineering.com